CHEMICAL
Clark Industrial offers an extensive range of chemical storage tanks, with capacities from 500 L to 46,800 L. Manufactured to specific gravities of SG 1.5 up to SG 2, our chemical storage tanks are suitable for storing most DG products, as well as non-DG liquids.

Clark Industrial has the expertise to manufacture and fit out chemical storage tanks to your exact specifications. We understand the special requirements of the industry and offer a comprehensive range of suitable fittings, including extension flanges, backing plates, full face flanges, BSP threaded fittings, sight glasses and float level assemblies.

Delivered complete with documentation that your tank has been made precisely to your specifications, Clark Industrial tanks offer a reliable, quality system for the safe storage of DG and non-DG liquids.

Omega Chemicals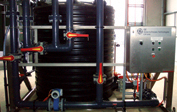 "As a chemicals manufacturing company, Omega Chemicals has on many occasions over the years required the use of a range of industrial polyethylene storage tanks for a wide variety of uses from storage of chemicals to the mixing of blended products. Clark Industrial has offered the service and quality that befits our quality assured company requirements, at a competitive price. Access to after sales service and support has been a standout aspect of the way that Clark Industrial Tanks have conducted themselves in the marketplace. I have absolutely no reservations in recommending both the product and service offered by Clark Industrial."

Bob Gray
National Operations Manager
Omega Chemicals