INDUSTRIAL WATER TREATMENT AND STORAGE
Water treatment plants across Australia form an important part of Clark Industrial's business. We supply all the major companies that specialise in water treatment plants. Clark Industrial has a wealth of knowledge in the fabrication of industrial tanks for treatment plants. Our people understand the demands on companies to complete large projects within certain time frames and to the highest standards.

At Clark Industrial, we pride ourselves on our quality workmanship and have invested in highly skilled tradespeople to perform all our industrial tank fabrication. Clark Industrial provides excellent service, maintaining open communication with you to ensure that all our tanks arrive on time and are fabricated to your exact specifications.

Water & Process Technologies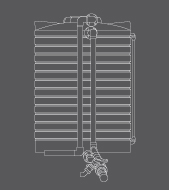 "I think that Clark Industrial Tanks have done a terrific job for us at our Spring Gully Project. Prior to this project, we had been conducting the majority of our business with another tank fabricator who we were having many problems with. Spring Gully was the first of the projects that we have worked together on; from our end it has been a success and we hope to continue the established relationship on future projects."

Isa Goktas
Water & Process Technologies
Engineering Manager, Australia/New Zealand